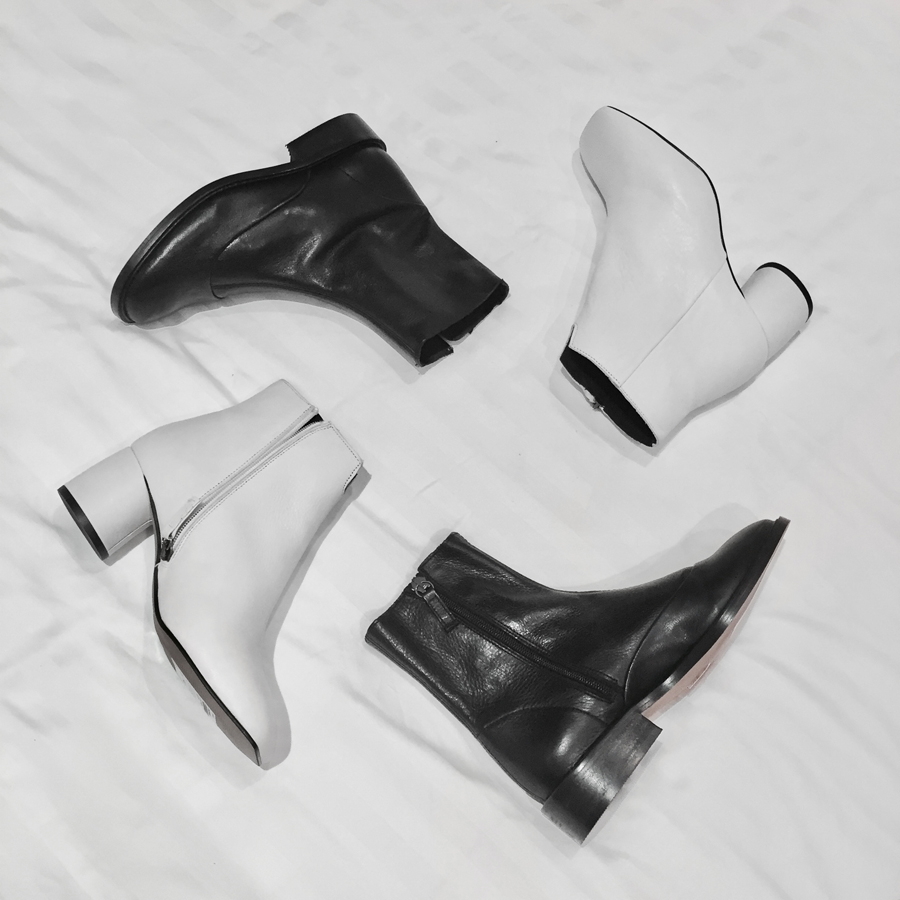 High summer is still raging on the continent, and the UK weather is just as quickly changing as ever. But whatever the weather, late August is the time to take a good look into what we'll really be wearing next season. For me, it all starts with cool footwear to set the tone for all the rest. See my top choice of the coolest boots and how to pick and wear them below. I'm keeping my cool high ankle snake block heels, my minimal black ankle boots and these other black ankle boots from before but I've just scored my first batch of new styles.
The best trends to look out for
Colours: black (as always), white (still going strong), red (the latest big thing), silver (for a different kind of bold).
Materials: buttersoft leather (as always) and natural rubber for wellies.
Style: ankle or calf height, sleek, minimal. In terms of toe shape, I suggest you brave the square toe or alternatively, you can get a classic rounded or almond shape. Still edgier styles include pointed toes paired with stiletto or kitten heels.
Picking the coolest boots of the season
First, look out for simple, minimal styles with tiny twists. A few well-placed studs here, a clever cutout there, or stitching that gives the foot candy real character. Ankle booties are still the best choice but among those, be sure to check out 'sock boots'.
These come up above the ankle bones and are very soft (to the point of flimsy) north of the soles but don't let that scare you away. Try on different sizes to get the best fit both for your feet and ankles. For example, I usually wear my size (UK 3) in all closed shoes. In addition, I have a few size 4 pairs I can cushion with insoles to my heart's desire. The thing with sock boots is I could wear any size between 2 and 4. But, only the size 2 gives me that gorgeous tough-and-smooth snug fit with the best look and feel. That's going about half a size down which you may not want to risk when ordering online. Still, I do suggest you try different sizes if you can.
For wellies, pick minimal, refined styles like chelsea boots (like my cheap ones here) and short boots. I added a couple of faves of those too to my top picks.
How to wear your new booties: top styling tips
Whatever the exact style of your new ankle boots, you will definitely want to show them off. So, just as last season, the go-to trouser length is cropped. Luckily, there's a lot of styles to choose from.
First, you can go for cropped straight or wide leg jeans to catch the latest trends. Don't forget to check out both the high street and vintage shops! Second, you can dig out your fave sexy boyfriend jeans you've had for several seasons for a relaxed look. Third, don't underestimate the power of tailored ankle grazers. They come snug or loose and they will look uber-chic with your new cool ankle boots. The combination of cropped trousers and chic ankle boots will be a real focus for your seasonal looks but without overpowering you. Finally, to finish off your outfits, you can throw on literally anything that works for you. Add an oversized shirt or knitted jumper, a fine striped top and a blazer, a cashmere sweater and a patent raincoat.
The coolest boots: my top picks
Best tough-and-smooth sock boots:
Best sleek square-toe mid heels:
Topshop Marilo Knotch leather ankle boots, £75 (in black)
Best edgy (square toe, block heel, patent, you name it):
Best wellies:
Kinda hot enough: additional picks
What are your fave styles for the season?
Love,
Gabriella