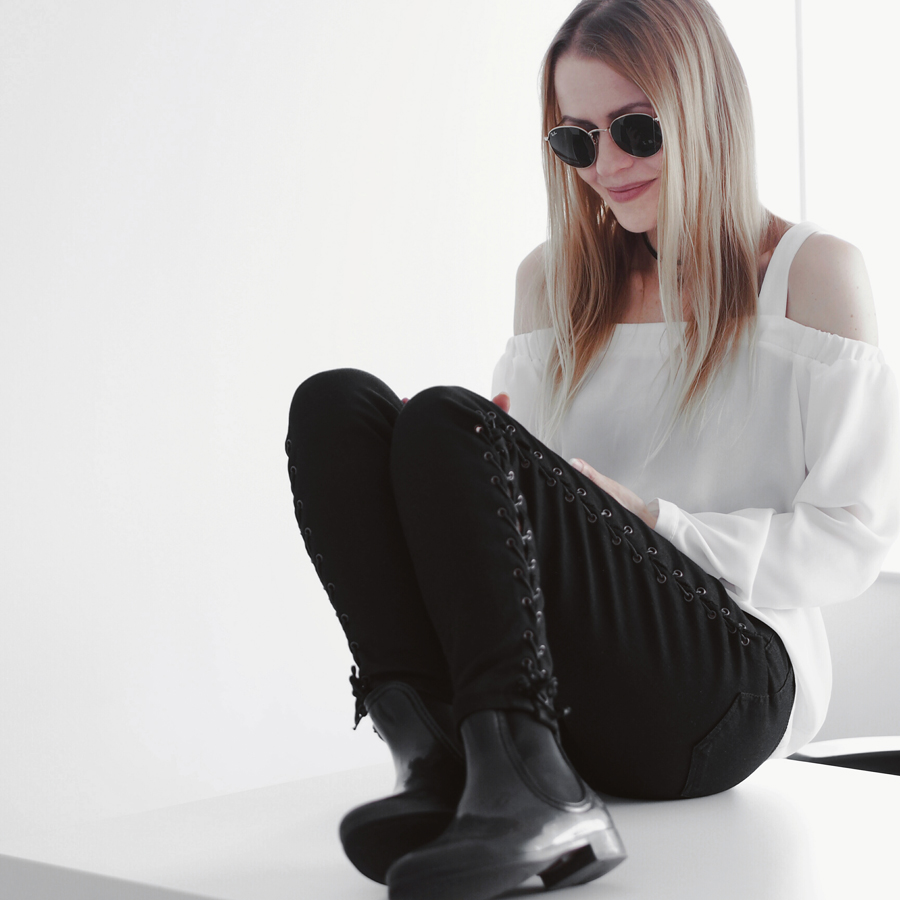 Hi there, I think I just managed a three-in-one look partly by accident. Sooo, here's the story. A few weeks ago I got a fresh spring haul of tops, full of white, gingham, stripes, off-shoulder and embroidery. Then I decided not to wait for the summer holidays to wear the off-shoulder ones. I picked this flowy white slip of fabric to start with. But, as always, things get tricky.
Challenge one: navigating the dress code
First, off-shoulder tops are widely considered as a definite no-no for corporate workwear. This is true even where most people's style is dangerously close to full casual. It's said it's something to avoid even if the dress code does not explicitly rule it out. You see, tank tops and tube tops are usually not allowed, but smart sleeveless tops are fine. Therefore, the classic off-shoulder like a Bardot top should not be risked. But what about an otherwise decent plain cold shoulder blouse? I'm the type who likes to push her limits but it's better to be smart about it and carry a cover-up. Here, any decent jacket, a black cotton jersey or fine-knit longline cardi – or, for some, a huge scarf – will work perfectly. OK, and let's not forget the safest solution would be a real blazer but where's the limit-pushing in that, right?
Challenge two: the weather
Second – goodness, this can be a real bitch. This spring we've had cold, hot, rainy, windy, stormy weather, even a bit of snow. For years I have found myself wondering what on earth a girl can wear to work when it's warm but rainy. I usually break out my cute Hunter ballet flats (lined in leather, bless them) but what if it rains for days on end? I never wear the same shoes on two consecutive days, that's just not right. Then, I don't do skirts or dresses in the rain – anything cool and wet should be at least one layer away from me.  So, jeans it is. On a bad-weather day, more than any other day, I need a look that's very practical, well put-together and is not boring.
Results with extras: today's office to festival look
And, the results I ended up quite happy with, considering the above conundrum: black lace-up skinny jeans, white cold shoulder top (which hides a bra and tank top quite nicely) and smart Chelsea wellies. For cover-up I went for a neutral mini-parka pretending it's a blazer. The look just ticked all the boxes and felt great.
By the way, these high-waisted skinny jeans from Topshop are pretty amazing. They come in blue and white too, perfect for your non-monochrome summer needs. They were not available in my size (W25 L30) so considering the high waist I risked sizing up – that's why they are not too skinny but I love them.
Interestingly, only after looking at the pics did I notice that this is a look I would be happy to rock at a festival. True, deliberately trying to build a proper office-to-festival outfit may not be the most sane idea to have. But once you have it, it feels like an accomplishment 🙂 To make the look rock-gig-worthy, I would just add a Western necklace (like the one I'm wearing here) and a black cowboy hat.
What special style hack have you pulled off recently – or do you have an eternal dilemma that screams for a good hack?
Love,
Gabriella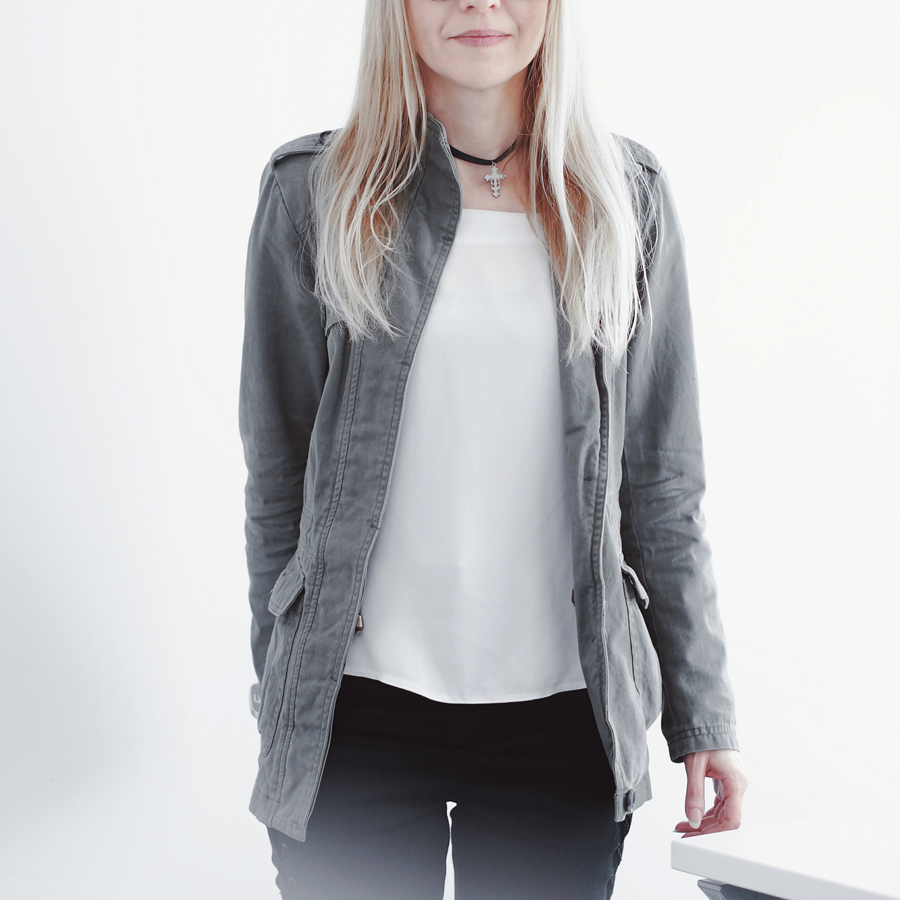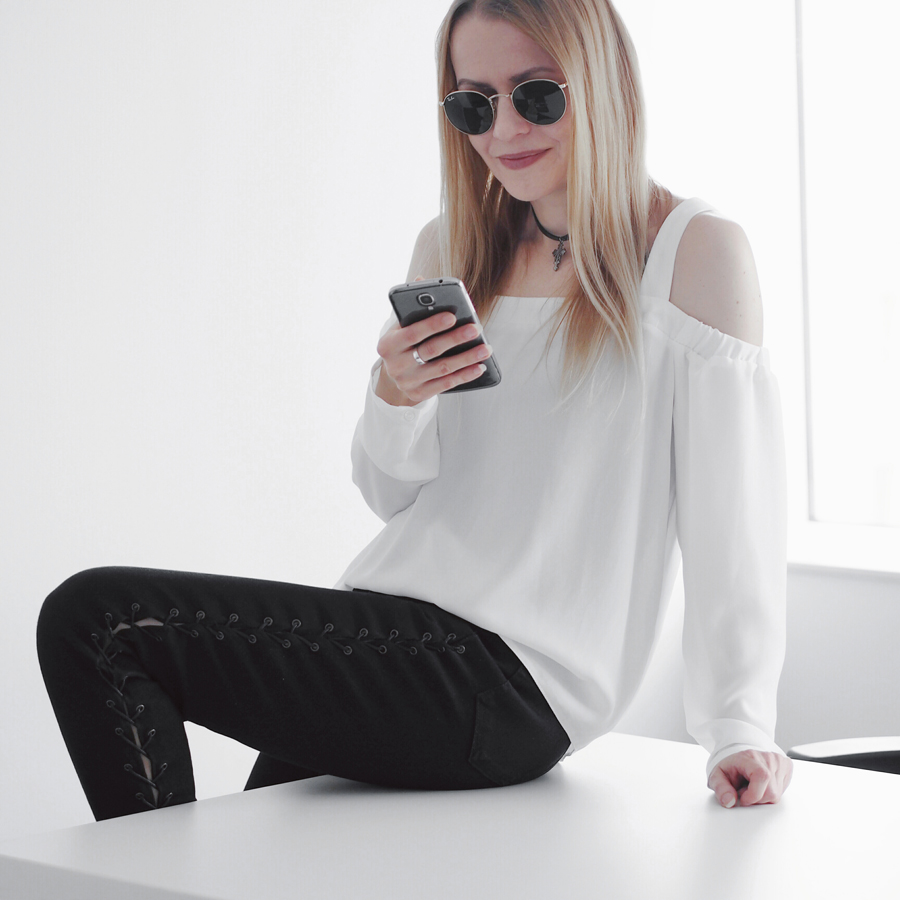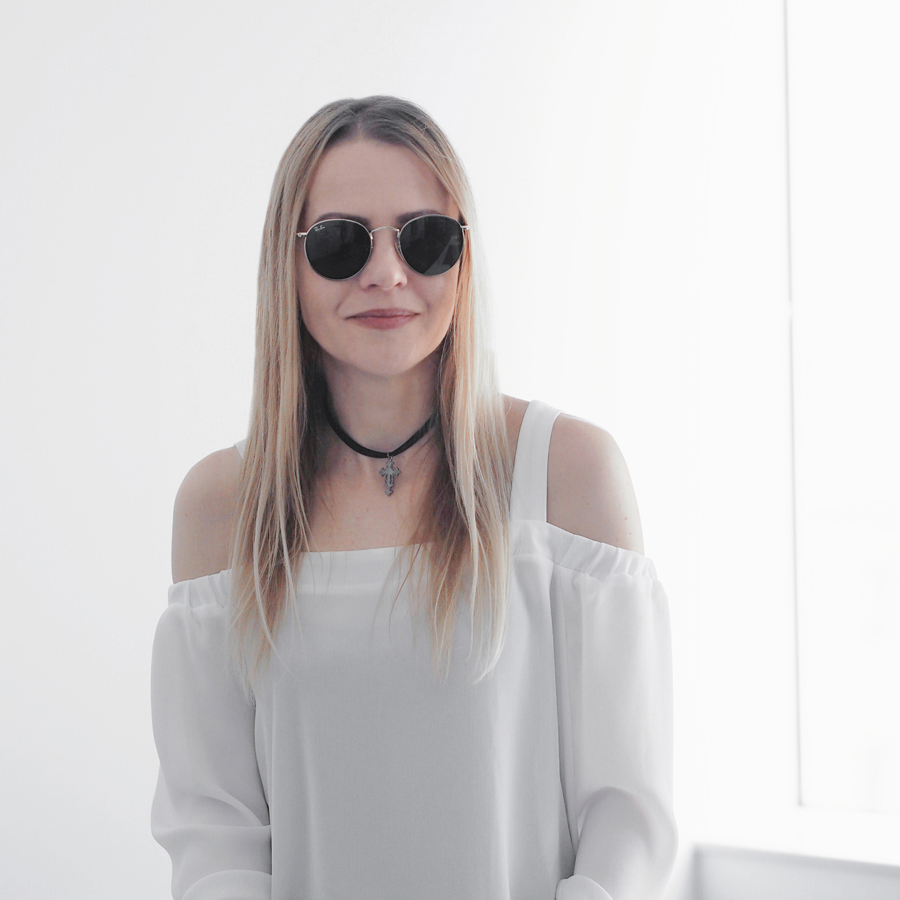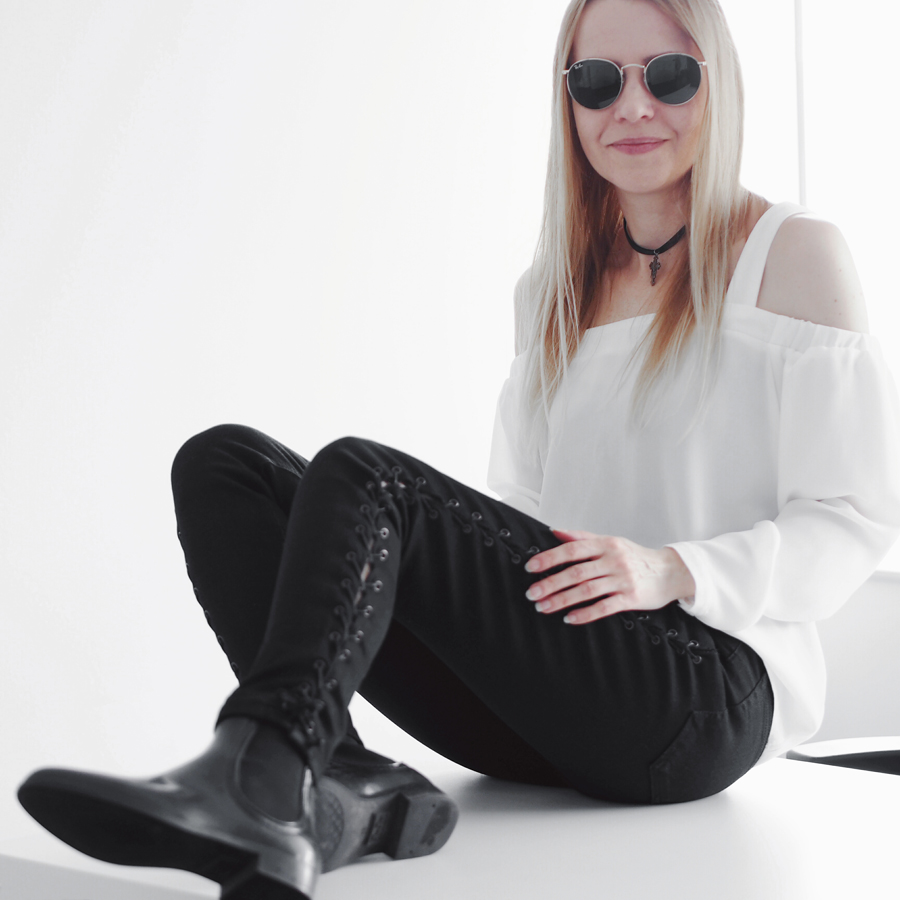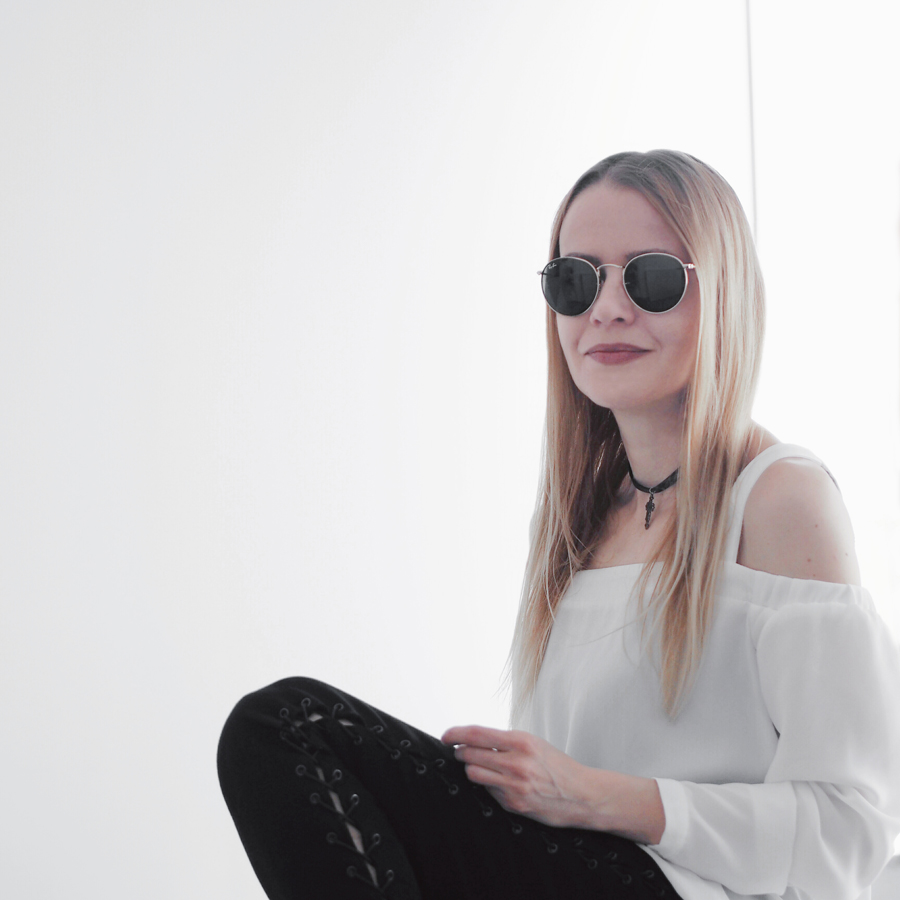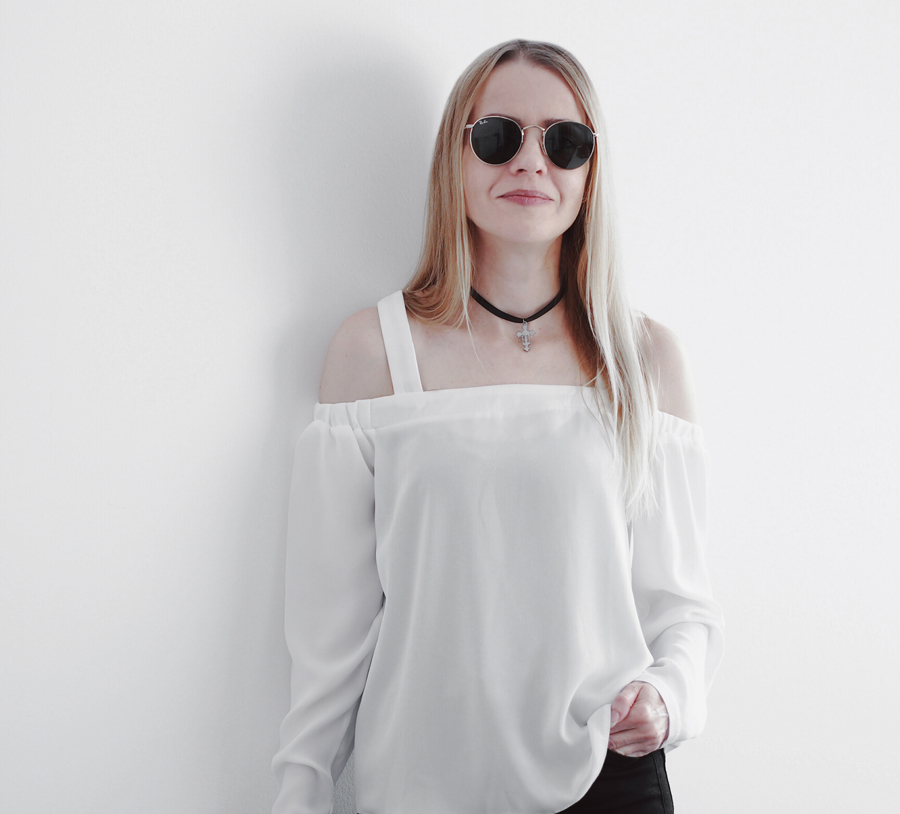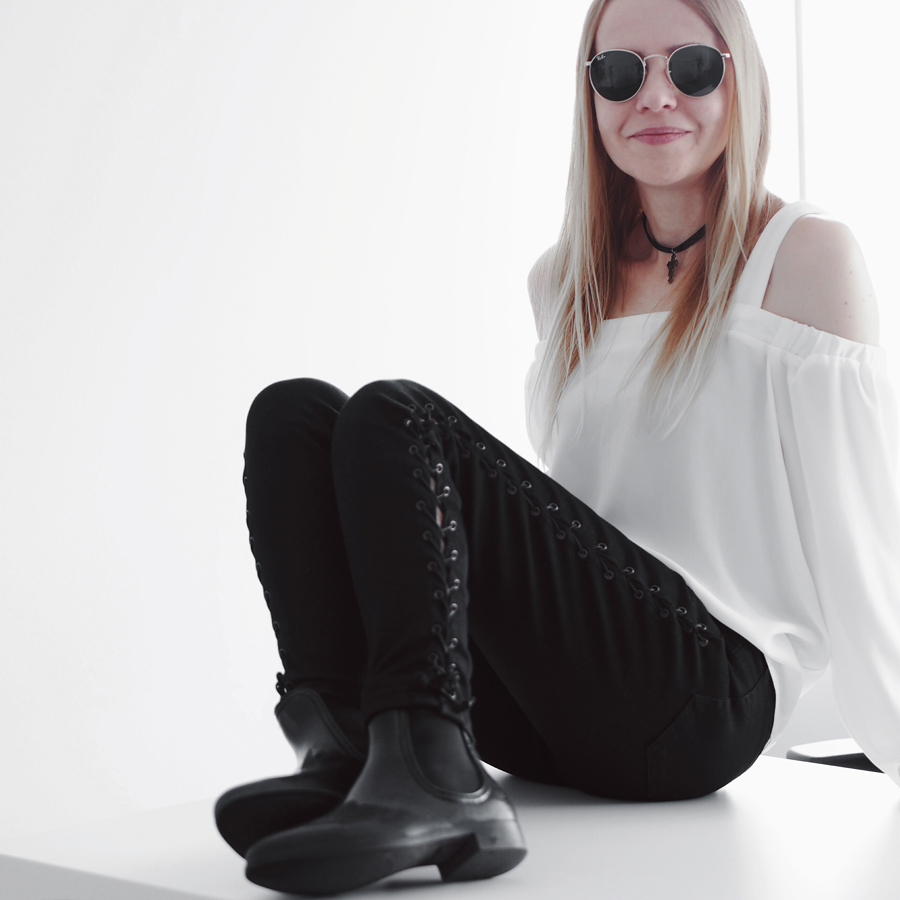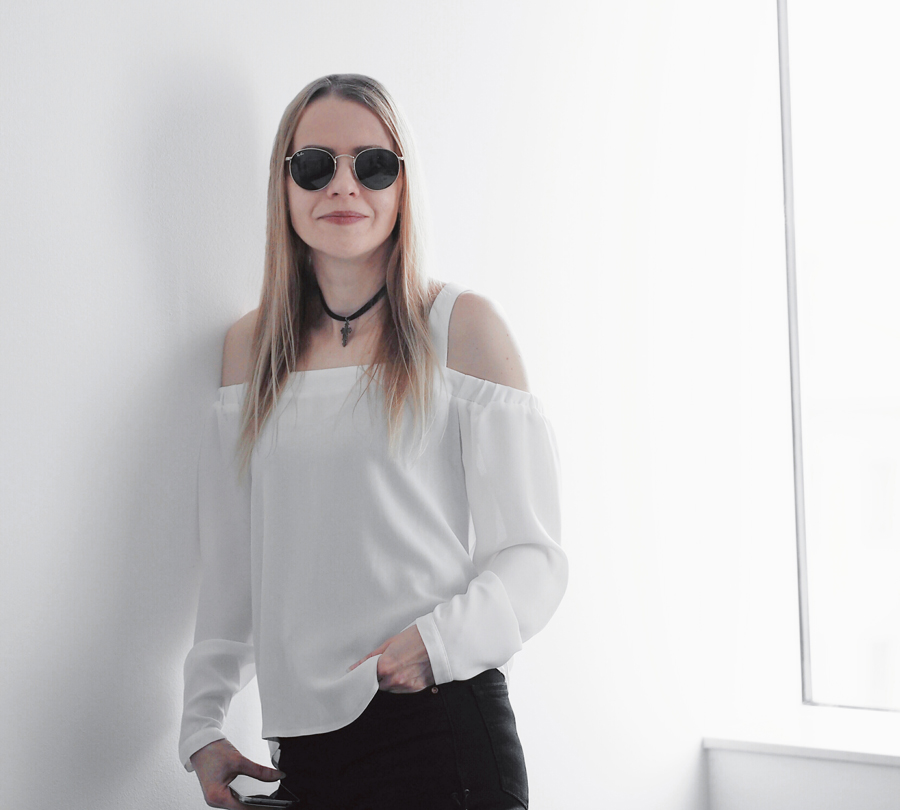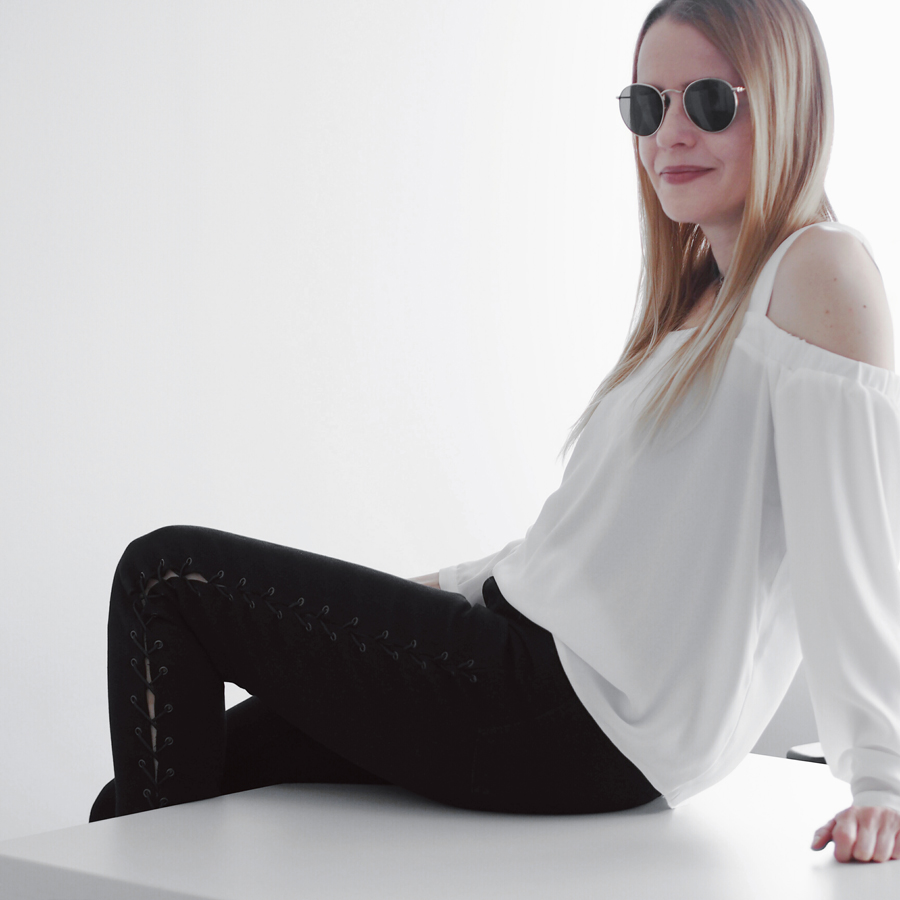 lace-up jeans: Topshop (white here, petite white here, petite blue here)
cold shoulder blouse: New Look
chelsea wellies: Topshop (leopard version here)
choker: New Look (similar here, here and here)
khaki jacket: New Look (shacket here)
sunnies: Ray-Ban